Delhi is both a union territory within India, as well as a city, and features two very different worlds: New Delhi and Old Delhi. The former, inaugurated by the British in 1931 to serve as the imperial capital, is the nation's modern capital and seat of government, while Old Delhi is considered by many as the symbolic heart of the greater metropolitan area.
One of the most populous regions in the world – it boasts a population of nearly 20 million people – Delhi is a heady mix of tradition and modernity, and is important as both a religious center and India's busiest international gateway. Its history is as old as the ancient Yamuna River, one of the most sacred rivers in Hinduism and a natural dividing line between New Delhi to the west and Old Delhi to the east.
Things to see and do in Delhi and New Delhi are plentiful and include experiencing its diverse arts and crafts industry, its many magnificent monuments, and countless performing arts venues. The area is also well known for its excellent cuisine, which includes delicacies from every corner of India. Delhi is also a shopper's paradise with numerous bazaars and markets, including Chandni Chowk, the country's most famous commercial area.
Find the best places to visit in this bustling, vibrant city with our list of the top tourist attractions in Delhi, India.
See also: Where to Stay in New Delhi
Note: Some businesses may be temporarily closed due to recent global health and safety issues.
1. The Red Fort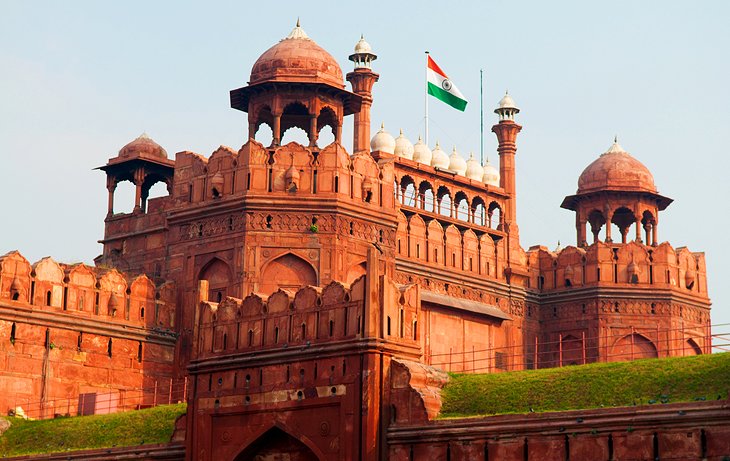 The beautiful Red Fort (Lal Qila) was built by Shah Jahan in 1648 and served as the seat of Mughal power until 1857. This stunning structure, with its tall, red sandstone walls covers an area of more than two square kilometers, the entirety of which is crescent shaped and surrounded by a moat.
The impressive main entrance, the Lahore Gate, is so named as it faces towards Lahore in Pakistan, while the even grander Delhi Gate was used by the emperor for ceremonial processions. Entering through the Lahore Gate, visitors reach Chhatta Chowk, a 17th-century covered bazaar where items such as silks, jewelry, gems, and silverware can be purchased, along with souvenirs and food items.
The Naubat Khana within the Red Fort once housed the musicians who played for the emperor, and its fine galleries still contain many interesting musical instruments such as kettledrums, gongs, and cymbals. Diwan-i-Am, the Hall of Public Audiences, where the emperor would receive his subjects, is also worth seeing for its stunning white marble.
A great way to see the Red Fort and other popular Delhi attractions is by booking a private full-day tour of Old and New Delhi. Highlights of this nine-hour urban adventure include a personal professional guide and driver who'll take you to such points of interest as Humayun's Tomb, Qutub Minar, as well as Jama Masjid, India Gate, and the famous Lotus Temple. Included with your tour are hotel pickup and a ride in a rickshaw.
Address: Netaji Subhash Marg, Chandni Chowk, New Delhi, Delhi 110006, India
Official site: www.indiaculture.nic.in/red-fort-complex
2. Qutub Minar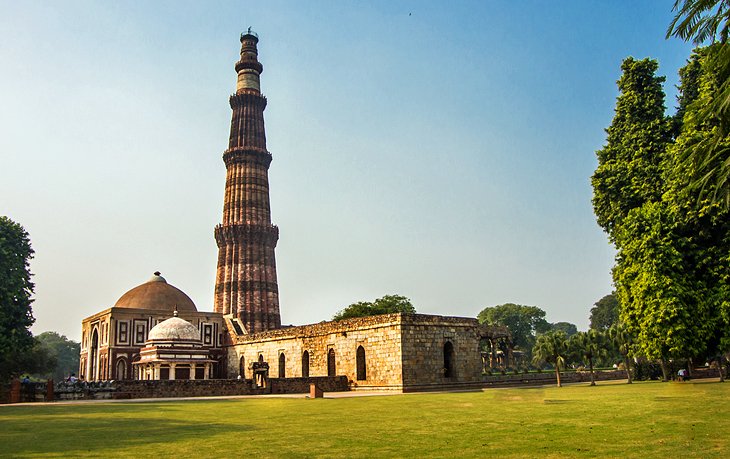 Completed in the 12th century, the beautiful Qutub Minar is India's tallest minaret. It's also now a UNESCO Word Heritage Site that attracts many international visitors eager to climb to the top for its breathtaking views of the surrounding area.
This ornate five-story tower rises more than 70 meters and is covered with intricate carvings featuring the history of Qutub along with inscriptions from the Koran. It's also notable for being constructed of a number of different types of stone (the first three stories are made of red sandstone, while the fourth and fifth stories were built with marble and sandstone).
The complex also includes the Quwwat-ul-Islam Masjid, a mosque at the base of the tower; a gateway built in 1310; and the tombs of Altamish, Alauddin Khalji, and Imam Zamin. Also worth seeing is the 2,000-year-old Iron Pillar, the Alai Minar.
Address: Mehrauli, New Delhi, Delhi 110030, India
Official site: www.qutubminar.org
3. Lodi Gardens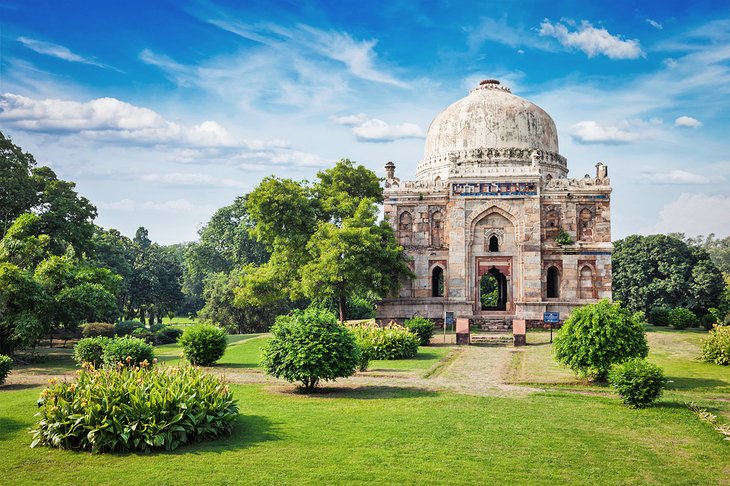 One of the most popular New Delhi parks among locals, the 90-acre Lodi Gardens is well-worth including on your Delhi itinerary. In addition to its lush gardens, the park contains numerous relics from the Lodi period pre-1600s, including a variety of important tombs and ruins.
Architectural highlights include 15th-century mausoleums containing the remains of the Lodi Sultans, as well as a picturesque triple-domed mosque, the Glazed Dome, known for its blue tiles, and the ruins of a huge dome dating from around 1490. Be sure to also look for the Athpula, an eight-pier bridge dating from the 16th century with its attractive columns and arches that span the park's lake.
Lodi Gardens is also known for its flora and fauna, including more than 100 species of native trees, 50 species of butterflies, and plenty of birdlife. It's also home to the country's National Bonsai Park.
While in the vicinity, take the short five-minute walk to the popular Khan Market. This bustling (and very safe) area in fact ranks among the world's most prestigious shopping districts, with luxury brands rubbing shoulders with street vendors selling local delicacies.
Address: Lodhi Road, New Delhi, Delhi, India
4. Gurudwara Bangla Sahib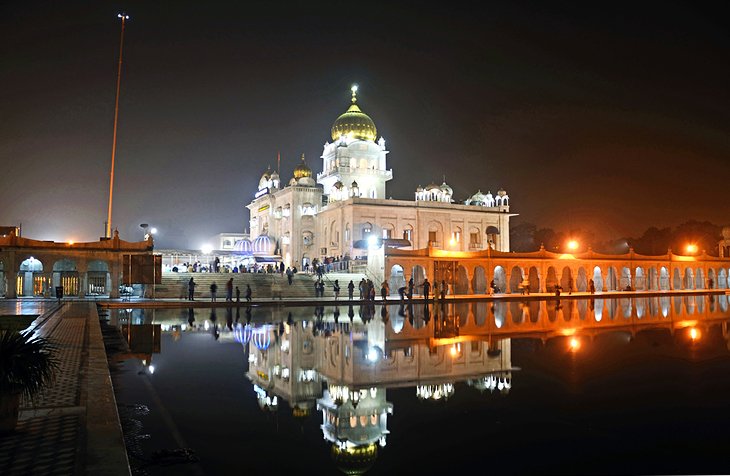 Delhi's most important Sikh place of worship, the 18th-century Gurdwara Bangla Sahib is located near Connaught Place and is well worth a visit. Highlights include its magnificent pool, the Sarovar, at the heart of this large complex, as well as its famous gold dome and flagpole.
Also of note is the large temple building itself, along with its art gallery and a small museum dedicated to the history of the Sikh religion. Visitors are always welcome here, and an excellent meal is available at no cost in the large Gurdwara Kitchen. All that is asked in return is your hair be covered and shoes removed (free headscarves and shoe storage are provided).
Address: Ashoka Road, Hanuman Road Area, Connaught Place, New Delhi, Delhi, India
Official site: www.dsgmc.in
5. The Lotus Temple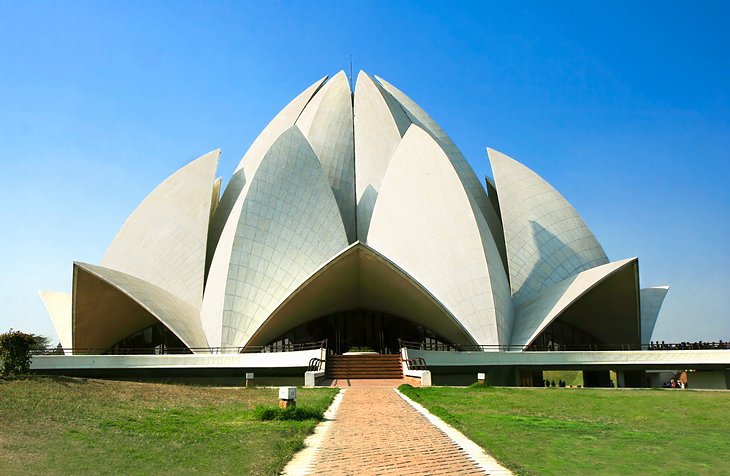 The magnificent Bahá'í House of Worship, also known as the Lotus Temple due to its nine sides and stunning central dome, is an architectural masterpiece. Constructed of white concrete and marble, the entire structure looks as delicate as the flower it resembles. Rising from the surrounding nine pools of water, it almost appears as if it might burst into bloom at any moment.
Built in 1986, the temple has since attracted more than 70 million visitors, making it one of the world's most visited attractions. Interestingly, this remarkable place of worship has no idols, religious pictures, or outward symbols of religion.
Another modern day temple worthy of a visit is the ISKCON Temple, one of the country's biggest Krishna temple complexes.
Address: Lotus Temple Road, Shambhu Dayal Bagh, Bahapur, New Delhi, Delhi, India
Official site: www.bahaihouseofworship.in
Source url:  https://www.planetware.com/tourist-attractions-/delhi-ind-delhi-delhi.htm